Accessories
Reference Page, to catalog some of the various accessories you may find with an OZO machine.  If you have anything not seen here with your machine please send it to me.  I'll add it to the list so others know whats available.
Pen Tool, in these photos I have a zip tied a different pen to the tool, it originally came with what I think is an old style HP plotter pen.
Digitizer, used to align parts on the table and take measurements.
Tool Changer, some type of collet, bit holder, still not quite sure how these function
Spindles:
Model #2030
Model #1050
Model #6010
4th Axis Driver (Photo compliments Michael Chizmar)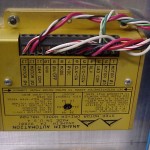 MC-3000 Control Board